LRT inquiry: Brian Guest rejects suggestions that personal and professional ties to city hall landed him contracts
[ad_1]

Guest is one of the more mysterious players in the LRT program, with most of his advising happening behind the scenes.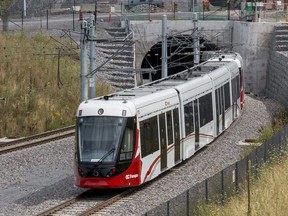 Article content
Brian Guest was under pressure Monday afternoon to reflect on why he received City of Ottawa consulting contracts when he wasn't an engineer, accountant or lawyer, while having deep personal and professional connections to city hall.
Article content
"I understand what you're implying, but I don't think there's any substance to that," Guest told LRT commission co-lead counsel John Adair during Day 11 of the inquiry hearing.
Guest is one of the more mysterious players in the LRT program, with most of his advising happening behind the scenes. His involvement in consulting Ottawa's municipal government has been under public scrutiny in the past.
Guest worked for a former mayor, Bob Chiarelli, who went on to become a provincial cabinet minister. He was on Mayor Jim Watson's transition team at city hall and volunteered on Watson's election campaign.
His sister, Robyn Guest, worked for former city manager Kent Kirkpatrick. Robyn Guests' husband, Chris Swail, was chief of staff to former deputy city manager Nancy Schepers, who oversaw the LRT program, via rail office director John Jensen. (Robyn Guest would go on to work in Watson's office. Swail would eventually become the city's Stage 2 O-Train project director.)
Article content
Guest was also consulting for Plasco Energy Group, which was working with the city to establish new technology for processing municipal waste. The city's waste program was also under Schepers' oversight when she worked for the municipal government.
All these connections came up during Guests' testimony as Adair attempted to show why people would question how Guest, the man behind Boxfish Infrastructure Group, received consulting work from city hall.
"I know that Mr. Jensen, Ms. Schepers and Mr. Kirkpatrick thought that I had the requisite skills and invited me to do an important role that I felt perfectly well qualified to do," Guest said.
Guest dismissed suggestions that his family ties played a part, defending the integrity of his sister and brother-in-law.
Article content
Adair focused on a central question: Why did the city hire Guest when it enjoyed the expertise of its own municipal bureaucrats?
At times during his testimony, lawyers suggested Guest was considered a "respected opinion" and a "change agent," someone city bureaucrats trusted to synthesize complicated information and provide advice. Earlier in the inquiry, an Infrastructure Ontario executive called Guest "a frighteningly brilliant guy."
One of Boxfish's claims to fame on Stage 1 was finding a shallower route for the downtown tunnel, saving taxpayers, according to Guest, $1 billion.
Adair suggested Boxfish received about $1 million in total for the Stage 1 work. (Guest said he wasn't sure about the total, but agreed the first three years of Boxfish's work on Stage 1 brought in about $200,000-$250,000 annually, and there was additional work.)
Article content
Adair questioned why Guest signed a new contract with the city in 2013 only to ask to leave the project within months. Guest testified he became more interested in the transit projects happening in Toronto.
Guest said he doesn't enjoy appearing in the news, but an email Guest sent Chiarelli as Chiarelli mused about the necessity of a judicial inquiry into the LRT program — with Guest questioning: "You know who you are screwing with this support for the judicial inquiry right?" — put him in the spotlight again and put him on the defensive about why he didn't want an inquiry.
For the second time during the commission's investigation, Guest explained Monday that he was worried the demands of an inquiry would take away from his important work on transit projects in Toronto.
Article content
Where he was initially skeptical of the effectiveness of an inquiry, Guest testified he's been impressed with the commission's work so far.
In the morning, inquiry commissioner Justice William Hourigan heard testimony from Michael Morgan, the city's director of O-Train construction who has responsibility for overseeing Stage 1.
Morgan, who had international experience on transit projects before joining the city in 2014, said there was a "huge disconnect" between the project achieving substantial completion and weeks later achieving the final milestone, revenue service availability.
There was still work to do at substantial completion, but there was nothing in the contract that allowed the city to hold back payments tied to minor deficiencies, Morgan said.
Article content
"We were in no man's land a little bit with some of these deficiencies," Morgan told city lawyer Peter Wardle. The commissioner has heard some deficiencies are outstanding.
Morgan said he would often join former transportation GM John Manconi to brief the mayor on progress.
Asked by Wardle if Watson rushed staff to get the LRT system into operation, Morgan responded, "No, never."
Under questioning by commission co-lead counsel Christine Mainville, Morgan refused to agree with her that the number of required trains was reduced during trial running because of problems.
The 13 double-car trains for peak-time service was reduced from 15 trains to meet the actual ridership level, Morgan said.
Mainville also hammered away on the city's reasoning for launching the LRT system on Sept. 14, 2019, only two weeks after taking possession from RTG.
Article content
She showed Morgan a letter he wrote to the head of RTG at the end of July 2019 about the city considering launching the system early in the fourth quarter of 2019, which started Oct. 1.
Morgan said the city had about three weeks to prepare for the public launch after RTG completed the trial running. He pointed out that the LRT system had a 98-per-cent performance rating in the first three weeks when there was parallel bus service. The city was thrilled.
Then, the problems started piling up.
"There was no way to know 100 per cent all of the issues that would arise during service," Morgan said.
The public can watch LRT inquiry hearings on video screens set up at Fauteux Hall at the University of Ottawa, online at www.ottawalrtpublicinquiry.ca or on Rogers TV (channels 470 in English and 471 in French).
On Tuesday, the scheduled witnesses are Thomas Prendergast, who provided key LRT advice to the city when he was with the firm STV, and John Manconi, the city's former general manager of transportation who oversaw the LRT project.


[ad_2]

Source link